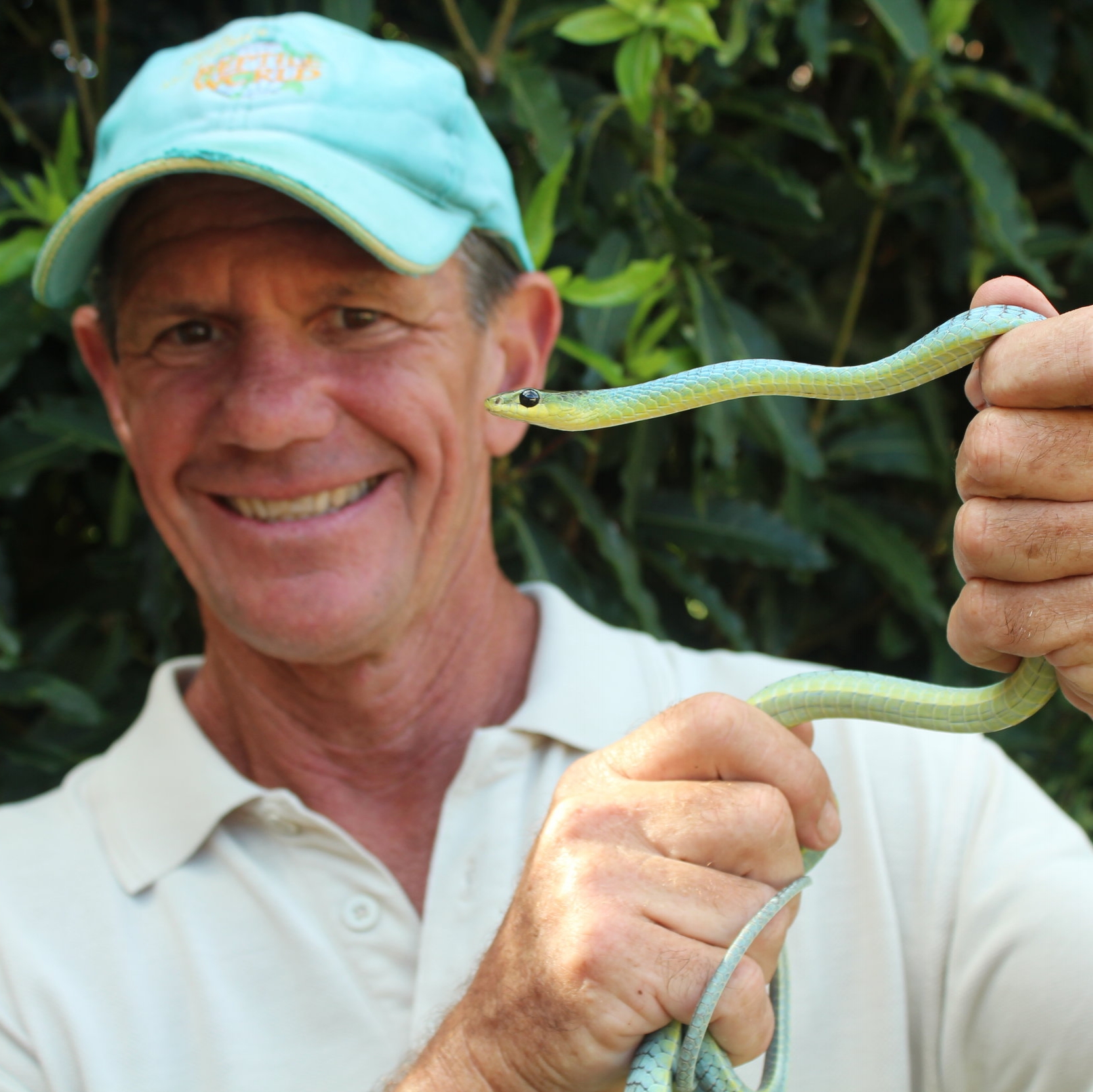 Owner
Steve has had a lifelong involvement with reptiles. He caught his first lizard when he was 5 years old, and kept his first pet snake when he was 10. By the age of 15 Steve was working at the Gosford Reptile Park (now Australian Reptile Park) under the legendary Eric Worrell. Since then he has devoted his life to his love of reptiles.
Steve's passion is to educate children and adults alike through the Reptile World business.
Centre Manager
G'day I'm Macca!
I've grown up my whole life around reptiles and the fascinating creatures dad brings home. Mum, Dad, my sister Sarah and I all love animals - especially our puppy Cooper! Although I love snakes, lizards, frogs, goannas and crocs, my number one passion in life is fishing. My spare time is always spent exploring the many waterways around the area. I've always been an outdoors guy and love anything to do with camping and getting out around Coffs.
Walking into this reptile park is like walking into my backyard as a kid, so I hope you enjoy all of our pets.
Keeper
Hi I'm Adam!
I'm a qualified zoo keeper, conservationist and horticulturist.
I have been working with reptiles for over 10 years, however my love for them started as a child. I grew up in Bonville, next to Bongil Bongil National Park, so I was constantly in the bush every weekend exploring. I was always amazed to see how all the plants and animals co-existed and would spend hours at a time in there. I was also the local snake catcher in our neighbourhood, often moving carpet pythons for my neighbours chook pens back to the bush.
I started at Reptile World in 2014 helping Steve in the pit shows. Prior to that I would watch his shows and often call and ask him reptile related questions. Steve has become my mentor teaching me from the wealth of reptile knowledge that he has. I have learnt a lot, but I also know I have lots to learn, which excites me as I strive to continue to know more. I'm passionate about reptiles as they are such amazing animals, however they still get a bad wrap at times, so I enjoy the challenge of trying to educate to build respect and an appreciation for these scaly critters.
When I'm not working you will find me spending time with my wife and son, making memories as we explore our beaches, bush and rainforest.
Business Development
I am known for taking my time to find my way back to my passions. Having volunteered at Symbio Wildlife Park (south of Sydney) for many years while at high school and always wanting to complete a zoology degree, life changed direction and I found myself studying B. Environmental Science and B. Business in Tourism Management in Lismore – where I met my now fiancé.
Following my studies I landed on the Coffs Coast working in Sustainability roles – however my creative side was not quite being fulfilled. I took the leap and started my own photography business, working for myself and freelancing to other local studios. While this exciting journey has certainly filled a creative gap, my passion to return to working with animals has always been in the back on my mind - enter Reptile World!
I am now a mum to an energetic toddler (Steve's little mate, who thinks he lives at Reptile World); and absolutely loving working with the awesome team at Reptile World.
Hope to see you soon at the Centre!
Supportive Wife
Hi I'm Deb.
I love reading, movies and coffee shops. Steve loves reptiles, the Australian bush and fishing. You would think that we are completely different but we have been together for over 30 years.
I am a nurse and midwife, and those skills have come in handy over the years. While I have birthed hundreds of beautiful babies, I have also seen the birth of Taipans, Brown Snakes, Death Adders, goannas, lizards and turtles. Not to mention removing stitches from snakes and giving injections to them as well. Amazing to think that our different careers complement one another. I never thought I would hear myself say things like "don't wash the crocodile in the shower" or "please don't defrost the mice in the coffee cups".
There is never a dull moment in our house – and I wouldn't have it any other way!
Veterinary Undergraduate
Like my brother Matt, I have grown up with reptiles in my life; as pets, appreciating them in their natural habitats, and learning about them through Dad and his extensive knowledge of reptiles. I received my first pet snake as a gift from Dad. Her name was Monty, a Diamond Python, which hatched from an egg not long before I was born. She fuelled my passion for reptiles and their conservation that I still have today, and made me realise how I want to use my career to help animals, in particular snakes and lizards.
I am currently studing a Bachelor of Veterinary Science through the University of Queensland and the light at the end of the tunnel (graduation) is getting ever closer. Although reptile medicine is not a primary focus during the degree, I take any extracurricular opportunity available to further my knowledge in their veterinary care.
After graduation it is my aspiration to work with reptiles. The majority of the reasons for reptiles becoming unwell and requiring veterinary attention is due to poor husbandry; a repercussion of a lack of knowledge of their housing and nutrition requirements. Thanks to Dad I am fortunate enough to have this knowledge base, and hope to educate reptile owners on how to improve their pet's husbandry and well being, and effectively their time here as our pets.
Hi I'm Cooper
I was rescued from a shelter by my family when I was 6 months old. This was a very lucky break for me, so I have made it my job to become the most loved member of the family.
My hobbies include following Steve around everywhere and keeping an eye on him, or lying on my couch, keeping an eye on what's going past the window. I also see how often I can get family to stop and give me a pat as they walk past – I am pretty good at this!
I am looking forward to the opening of Reptile World so hopefully I can follow Steve around there too and meet lots of new people.